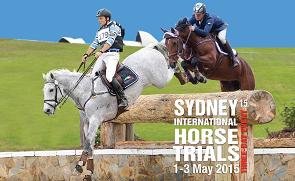 1 month to go until Sydney International Horse Trials
One of Australia's premiere equestrian events, The Sydney International Horse Trials (# SydHT), is just one month away.
Held at the Sydney International Equestrian Centre 1-3 May #SydHT is unique in that it hosts top level competition in two equestrian disciplines, Eventing and Show Jumping.
The feature of the Eventing program is the Equestrian NSW CCI3*. Once again the course has been designed by world renowned course designer Mike Etherington-Smith (GBR).
"Riders can expect to see new tracks.  We have opened up an area inside the steeplechase course and we have a new coffin fence combination. Opening up the course to new tracks will add an extra dimension and keep the riders on their toes, keep them thinking. It will be different from previous years so they will have to think of when they are going to use their horse and where they will make up time if they get down on the clock," said Etherington-Smith
"We have plans to open up the venue further so in 3, 4 or 5 years' time there tracks will be a lot more versatility for the course designers," he added.
In addition to the CCI3* # SydHT will be running CCI2*, CIC2*, CCI1* and CIC1* all designed by Stuart Tinney. There will also be Young Event Horse classes for 4, 5 and 6-year-old horses.
On the Show Jumping side # SydHT is pleased to announce that they will be holding the Greater Sydney CSI World Cup Jumping Qualifier. Other jumping highlights over the three days include the Amateur Jumping, Young Horse classes for 4 to 7-year-old horses plus 1.10m to 1.45m classes and Junior and Young Rider classes. Spectators can expect to see 2014 Australian Jumping Champion Dave Cameron, Youth Olympic Games medallist Tom McDermott as well as the winner of the recent World Cup class at Sydney Royal Easter Show Allison Rowland along with numerous other top riders.
The event promises a great day out for the whole family. The children will be treated to free face painting, petting zoo, jumping castle and pony rides.
The older generation may enjoy a social drink at the Water Pond Bar and Café whilst watching the cross-country action on Saturday.
On Saturday Evening there will be Young Rider Jumping classes followed by bareback jumping. With $500 prize money up for grabs this is bound to be full of action and dare devil riding.
Sunday will see the return of the "Jockey's Jumping Challenge". Legends of the turf including Hugh Bowman, Jimmy Cassidy and Kathy O'Hara will swap their race silks for show jumping coats. They will be paired with a jumping rider who will have to test their skills in pony racing. It was a crowd favourite last year and is sure to get everyone laughing again this time.
Other activities available include behind the scenes tours, guided cross country course walks, great shopping, a hospitality marquee and you are invited to have your say at the open forum on Friday evening "Fit to Compete - A serious and fun look at getting horses and riders fit - are we all getting fat and slow?"
So don't miss out on all this great event has to offer.
Where: The Sydney International Horse Trials at The Sydney International Equestrian Centre, Saxony Rd, Horsley Park 2175
Directions:Click here for directions how to get there or catch the chartered bus from Centennial Park
Media Accreditation: Link to Media Accrediatation form or Contact Michelle Cook at Equestrian Australia [email protected] 02 8762 7777
How much: General admission is $20 on Saturday and Sunday
Tickets: Buy tickets online at Eventbrite - including tickets for the chartered bus from Centennial Park
Information: Please see www.sydneyeventing.org  for more details
Contact: Please contact Nicky Lyle at [email protected] 0404 496 182 for further information