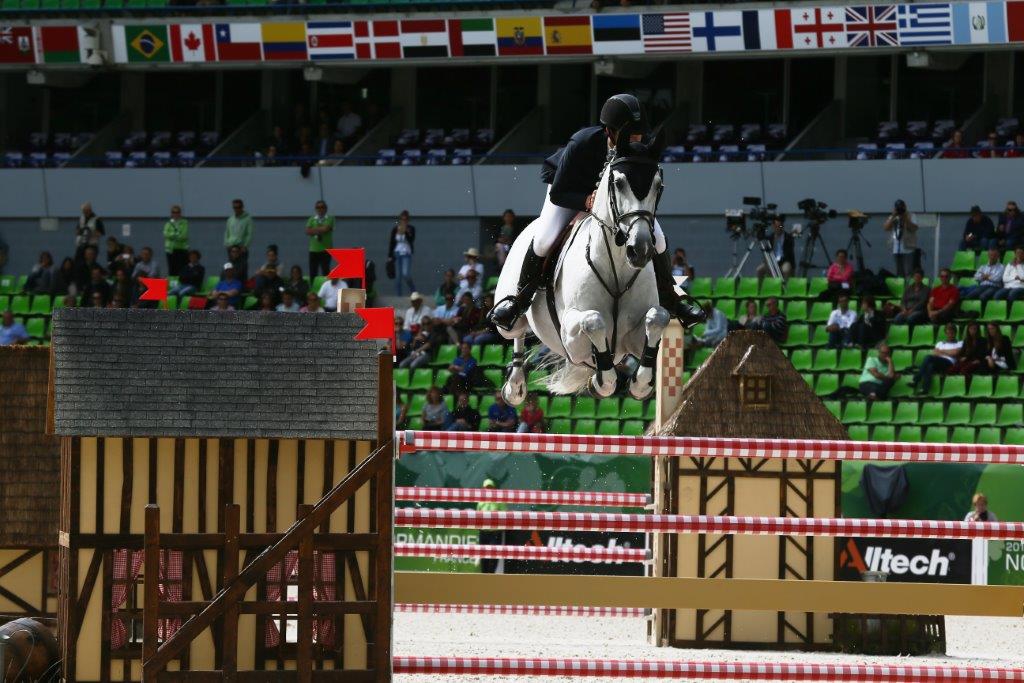 Jenny Sheppard
2014 World Equestrian Games – Normandy – First Jumping Competition
The Jumping started at the WEG today with a Table C, the course designed by Frederic Cottier had 14 number obstacles including three doubles and a 3.8m open water.  Set at 1.50m in height the course included several jumps depicting famous attractions in Normandy.  The Etretat wall showing the natural site of a little fishing port caused the most upsets, no wings and sloping edges coloured to blend with the arena surface made it optical for many horses.  Also the Le Mont Saint-Michel oxer over a Liverpool resembling the mouth of the Couesnon River cause plenty of rails to fall along with the Puits & Pigeonnier oxer set on a turn back following the double at 10.
Jamie Kermond was first out for Australia riding Quite Cassini, both looking great an unlucky rail at the first fence to finish on 89.69 seconds in 73rd place.  Amy Graham, the second rider, jumped a super clear round riding her grey Bella Baloubet in a slick time to be 56thoverall – the competition just so strong.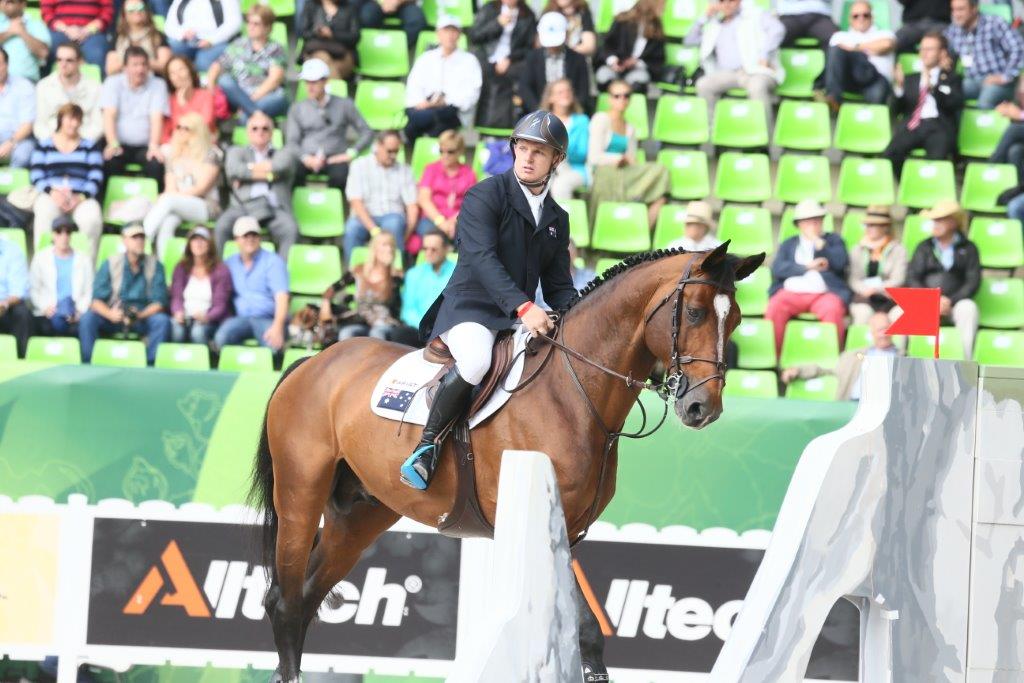 Edwina Tops-Alexander was third to ride for Australia jumped clear riding Ego Van Orti, looked super to finish 62nd.  James Paterson-Robinson was next riding Boris III starting well, dropping on rail then when shaving the corner to the combination at 13 Boris missed his line so a rail and re-present leaving James in 116th position.
19 year old Bertram Allen from Ireland took the lead in the morning session and held onto it to win the class riding his mare Molly Malone V.  Patrice Delaveau was second for France and Gregory Wathelet third for Belgium.
This class is also the first round of the team's competition – France leading with 2.08 penalties, Sweden second on 3.01 penalties and USA third on 4.72 penalties.  Australia is in 19th position on 16.51 penalties.  The second round of the Individual and Teams is tomorrow which will be over a Nations Cup type track and we will see plenty of changes to the Team leader board.  The Australian horses looking super and should move well up the rankings tomorrow.
Congratulations to the Australian riders, there ten horses eliminated including individual favourite Doda De Miranda from Brazil.
See more WEG Action Photographer Jenny Sheppard
 Jenny Sheppard