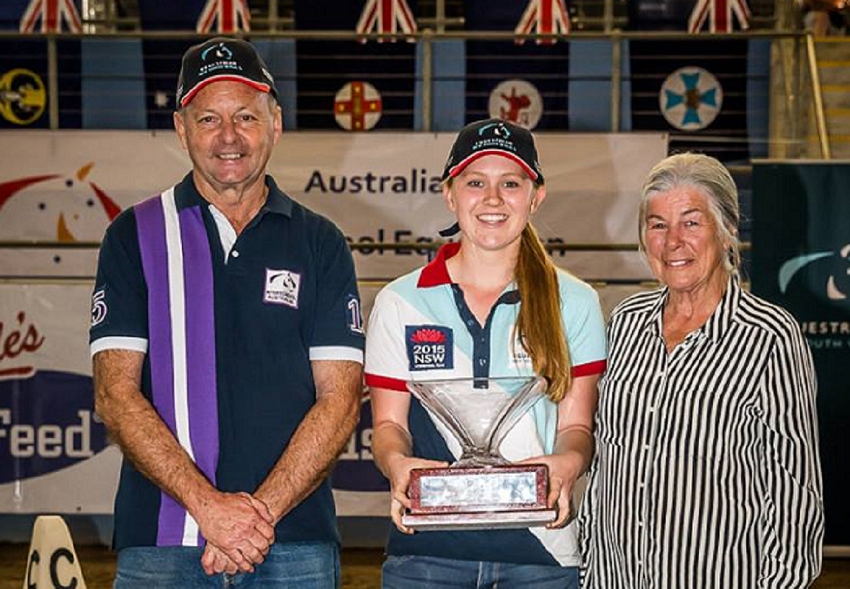 Stephen Mowbray Photography
2015 Pryde's EasiFeed Australian Interschool Championships
The Pryde's EasiFeed 2015 Australian Interschool Equestrian Championships have been successfully staged in NSW.
A huge congratulations to Equestrian New South Wales and also to Team NSW for taking out the Harry le Bherz Trophy and to Western Australia for winning the overall Teamwork Trophy.  With over 350 competitors and horses this year was the largest event to be held at the Sydney International Equestrian Centre since the 2000 Sydney Olympic Games.
Lots of smiles and laughter along with personal best scores were displayed across the week.
There were a number of special awards for outstanding individual performances at the Pryde's EasiFeed 2015 Australian Interschool Equestrian Championships. These were awarded across specific disciplines and included an overall Teams Trophy and our final 'Off The Track' awards for Eventing, Combined Training, Showjumping, Dressage and Show Horse ... such a transition is very special indeed.
A HUGE thank you to our sponsors who made this event possible. As Judy Fasher noted in her closing comments, Equestrian Interschool in Australia has a ever-growing and wonderful depth and there's some real rising stars that we will watch with great interest who are being pushed very hard by a legion of young folks who all have wonderful talents ...
We want to take a moment to thank our Gold Sponsors FDC Construction & Fitout, Jurox Pty Ltd, John Boyd Properties, Godolphin Racing Darley Stud, Equestrian Australia 'Ready Set Trot' program, we extend our enormous thanks for everything you have done to make this event possible.
To the incredible companies that were our silver sponsors, Saddleworld (specifically the amazing team at Saddleworld Mittagong), Horsezone, TuffRock, Australia Bejeweled Browbands & Equestrian Apparel, Hamag, Goodwood Saddlery, Edinburgh Horse Rugs, Equessential Boots, Oz Shotz, Antarès Sellier Australia's, HorseWyse Magazine, GeoSnapShot, Brighton Saddlery, we thank you!!
We can't say thanks without a huge thank you to the organising committee and the many volunteers who put a large number of hours to get the event up and running. To all of our young riders we will continue to support you because you support the sport we all love.
Thank you so much for helping us make this possible.
Results
Champion Teams.pdf
Major Awards.pdf