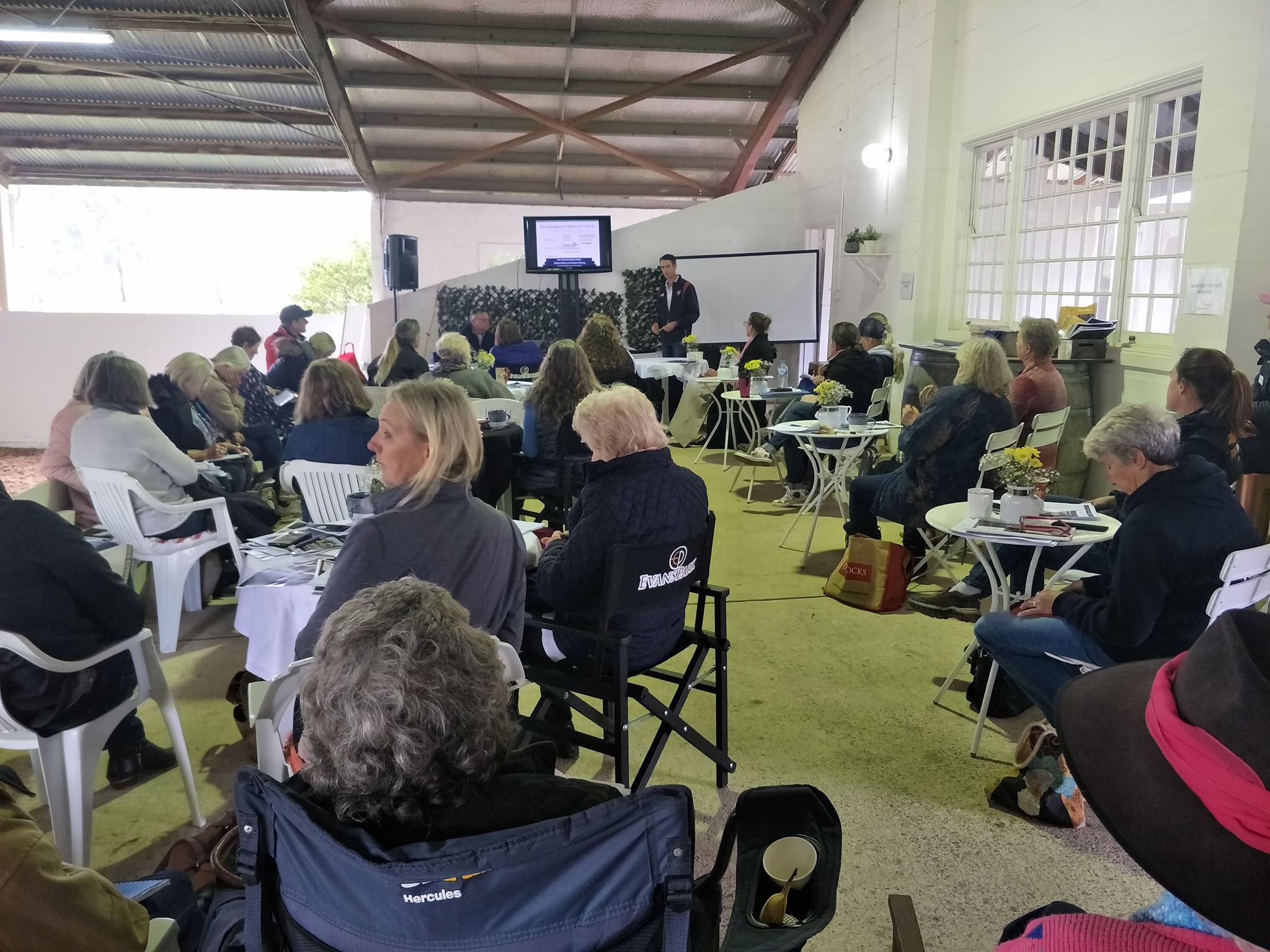 Sue Birch
Coach/CE/SSTA Update Clinic - Day 1 at Evans Park
40 NSW-based EA Coaches arrived at the magnificient facilities of Evans Park, Glossodia, on Monday, 20 May for a jam-packed day of presentations and masterclasses.
The programme was put together by the Coaching NSW Committee with the emphasis on providing relevant information specifically for Coaches. The programme included the latest information on EA Coaching and the renergising of the Coaching scheme and the re-estalishment of the NSW and National Coaching Committees. 
Robert Stewart, Chair of the Coaching NSW Committee welcomed the Coaches and briefed the group on the structure of the Committees and the work that is currently being undertaken.
Andrew Wilson, from The Other Dimension, brought the coaches up to speed on the Ride-A-Horse website and the online enhancements being built to promote EA coaches.
Specific discipline presentations higlighted the latest developments in rules and competitions with presenters including Robert Stewart, Colleen Brook, Sue Cunningham and Matthew Bates.
Ainslie Lalor from SafeWork NSW discussed risk management for the horse industry.
The afternoon session was devoted to the demonstration of quality, progressive coaching with masterclasses conducted by Megan Joerg, Brett Parbery, Colleen Brook and Craig Barrett.
Participants were then treated to drinks and canapes with Karen and Lee Ann from Racing NSW who presented the details of their TB Rehabilitation programme.
The Committee then gave the participants the chance to ask questions and have their say.
Day 2 continues today at WIndsor RSL with Coach Educators and Skill Specific Trainer Assessors attending an intensive interactive workshop covering Effective Assessment with Darryl Durham from Optimum Edge.