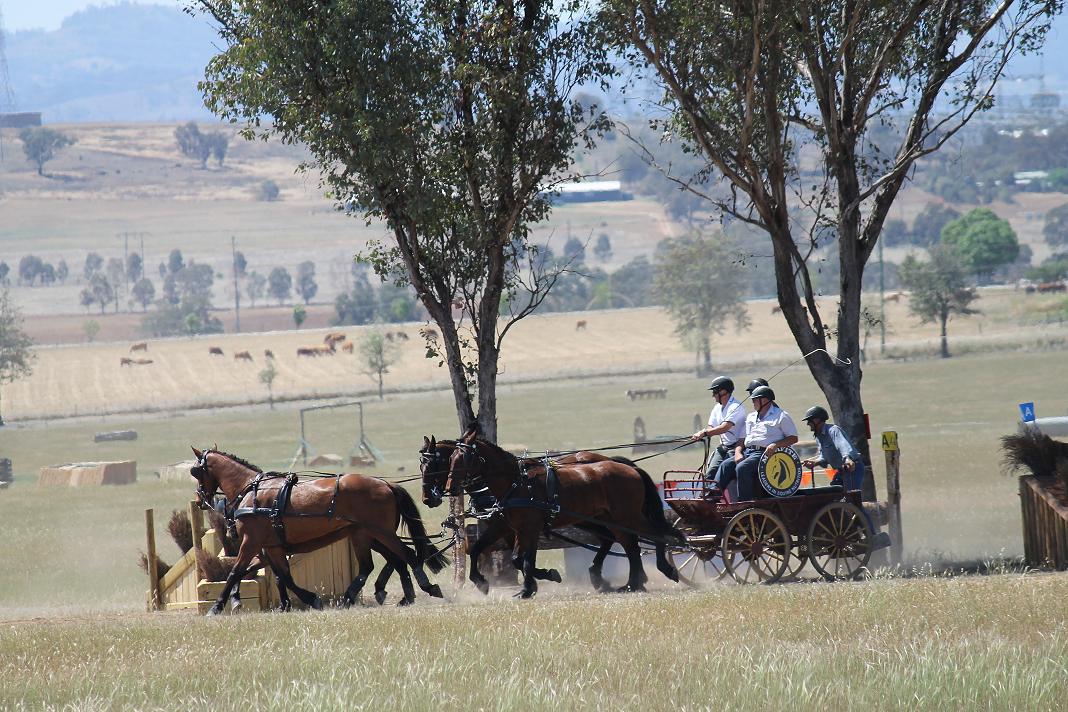 Andrea Webb
Drivers Shine in Tamworth
Tamworth played host to the FEI Course Designer's Clinic for Driving Officials which was conducted alongside FEI CAI 1* classes and a Master Class at the Australian Equine and Livestock Event Centre (AELEC) at Tamworth NSW over the weekend. 
Dr Wolfgang Asendorf from Germany along with Peter Harkness from Australia conducted the FEI and EA Course Designers clinic which was attended by over a dozen prospective carriage driving course designers.
The FEI classes and unofficial classes got underway on Friday afternoon with official competitors experienced a horse inspection for the first time. 
The sun shone on Saturday as the competition started in earnest with the dressage and cones phases.  Single pony classes, pony pairs, single horse and teams all took to the dressage arena in style. Formal carriage attire was the order of the day with carriages sparkling in the sun. 
The cone phase was held in the afternoon and this provided an opportunity for the Course Designer participants to review the course set by Dr Wolfgang Asendorf.  The course proved challenging to competitors with angles and turns negotiated around the course.
The Combined Marathon was held on Saturday afternoon.  This course is set up with cones and an obstacle that competitors have to negotiate within a specified time.  Being held indoors most competitors had not experienced driving on sand, with some finding it a little difficult at times. 
However the highlight of Saturday was the Master Class conducted by five time World Driving Champion, Boyd Exell.  Boyd cast his eye over the competitors during the day and selected a few to participate in the class.  Dr Asendorf also assisted Boyd during this session with course guidance and a little fun along the way.  One thing to note is that Boyd is a true horseman and his handling of horses is second to none.
Once again the sun came out on Sunday for the Marathon phase which saw competitors undertake different phases including an old style roads and tracks, ten minute cool down circuit, obstacles then a final track to the finish.  It was certainly exciting to see ponies, horses and carriages negotiate extremely tight turns to ensure they cleared each obstacle.
Boyd continued to stay on in Tamworth to undertake some training clinics with the drivers. A fantastic opportunity to learn from the master himself.
Congratulations to all involved in organising this inaugural event.