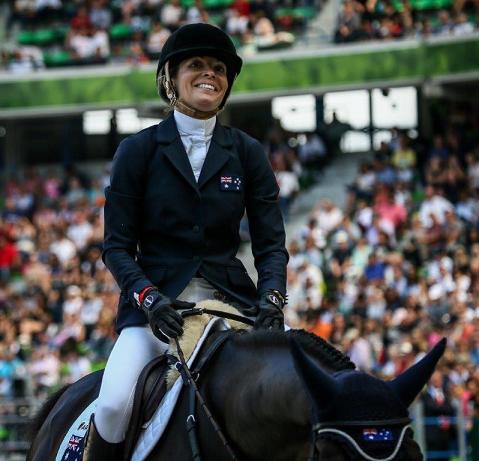 Jenny Sheppard
World Equestrian Games – Individual Jumping and Final
See more WEG Action Photographer Jenny Sheppard
French Course Designer Frederic Cottier set s strong 1.60m track for the first round of the final individual grand prix at the Games on Saturday.  The course included a double and treble, a 4.2m flat water jump.   Eight horses jumped clear plus two with just one time penalty, seven had a rail at number ten, the land Rover oxer – square set at 1.55m high and 1.75m wide.  Ten of the 29 starters not dropping a rail including Australia's Edwina Tops-Alexander riding Ego Van Orti, the combination only adding 1 time penalty to their overall total – a great round, what a jumper, this 10 year old son of Vigo D'Arsouilles from a daughter of Darco on the Dam side. 
Edwina was the only Australian rider ranked in the top 30 and get to start in the final individual competition.
23 riders were invited back for round two, Rolf-Goran Bengtsson the leader for Sweden on just .34 of a penalty.   Edwina's round moving her up the rankings and now in 12th position.  Cottier's course another tough 1.60m track including the treble at 9 with a huge triple bar as the first element followed by two verticals.
Many of the horses were now starting to look a little tied, four days of solid jumping for the best jumping horses in the world.  Nine horses jumped fabulous clear rounds including Denis Lynch for Ireland, Marcus Ehning for Germany, former Australian horse Vivant ridden by Cassio Rivetti for Ukraine.  Vivant at 16 years old looked amazing and finished eighth in the world – just two rails down for the week.  Others clear were McLain Ward and Beezie Madden for the US, Jeroen Dubbeldam for Holland, Patrice Delaveau for France and Abdelkebir Ouaddar from Morocco. 
Edwina Tops-Alexander finishing on 8 penalties with rails at the 1.60m Alltech vertical and the Land Rover oxer number 7, Ego Van Orti looking a little tied in this round – a great effort with just two rails down for the week and finishing in 15th position overall – Congratulations Edwina.
The top four riders following this second round ride off to decide the 2014 World Champion.   
Sunday's round robbin type ride off was between the best four riders of the week, Rolf-Goran Bengtsson, Beezie Madden, Patrice Delaveau and Jeroen Dubbledam.  Each rider- rides their own horse then each others in rotation.
Sunday's packed stadium was abuzz with excitement, the warm up and horse holding area was built within the arena, each rider is allowed two practise jumps on each horse, one vertical and one oxer.  The riders rode their own horse first, all four riders keeping their great form and jumping clear.  Holland's Jeroen Dubbeldam rode every horse picture book perfect to finish with zero penalties and become the 2014 World Jumping Champion.  Patrice Delaveau, the Silver medallist also jumping clear on each horse adding just one time penalty riding Casall Ask and miss out on the world championship by just one penalty.
Beezie Madden was the Bronze medallist on a total of 12 penalties – a rail down on each of the other rider's horses.  Fourth went to the Rolf-Goran Bengtsson on 14 penalties.  The Champion Horse of the Games was Beezie Madden's Randel Z Gelding whose mother is a daughter of Darco – bred to jump.
All four riders were truly champions, all horses jumping beautifully after a full week of jumping, a credit to the course designer who got it perfect EVERY day without busting any of the wonderful horses.
Jenny Sheppard