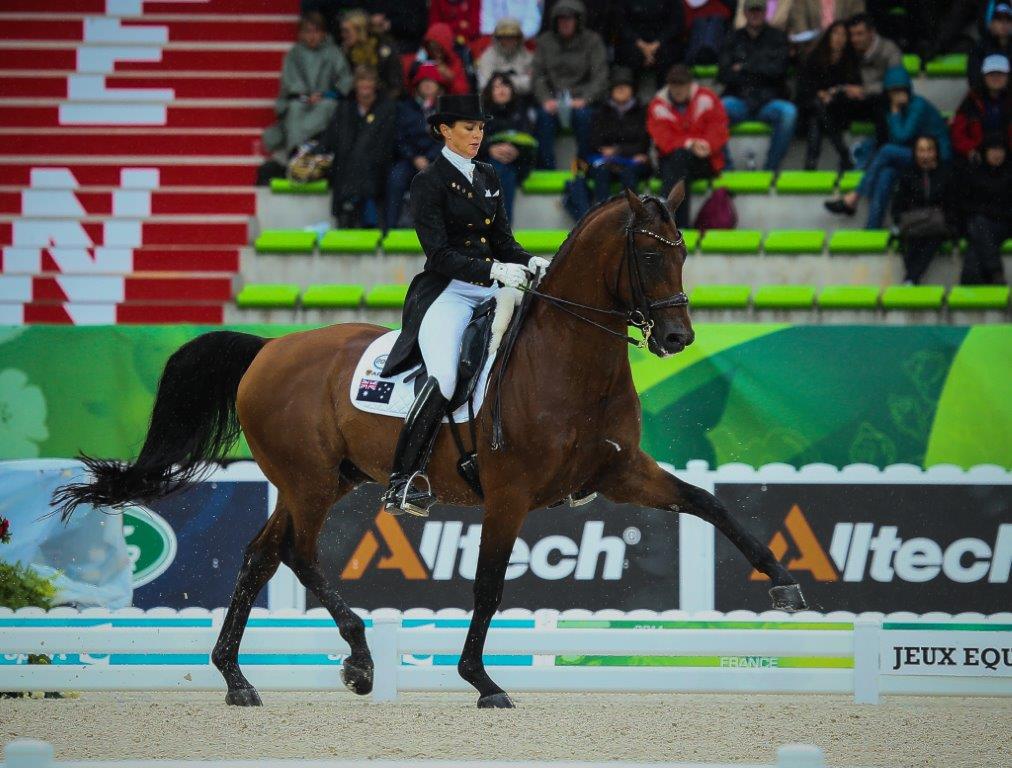 Jenny Sheppard
World Equestrian Games – Normandy, France – First Day of Competition – Monday 25th August 2014
WEG - First Day of competition - by Jenny Sheppard
Dressage
The D'Ornano Stadium in Caen today featured the first half of the Grand Prix Dressage which is also the Teams competition – half the field competing today and the 
second half tomorrow. Today, thanks to the weather Gods, was also a true test of the arena surface with constant rain all day – the surface although at times completely sheeted in water appeared to be perfect to ride on throughout the day.
Australia's Maree Tomkinson and her beautiful mare Diamantina 4 entered the arena, after a minor hiccup when the lovely mare decided that the tunnel.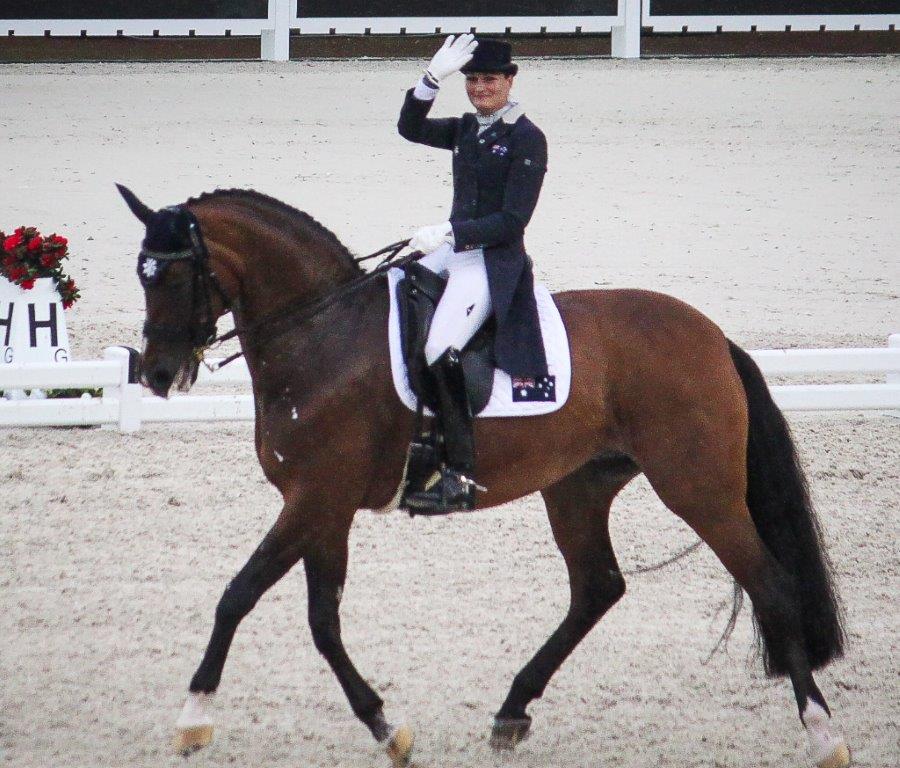 The Australian based pair putting up a super show looking relaxed and soft, showing the benefit of their European training and scoring 69.300% - a fantastic start for the Australian team.to the arena was t
 at this point) errifying, the quick thinking Maree jumped off and lead her through the tunnel hopped back on and straight into the arena to start her test. The crowd (mostly Australian
Lyndal Oatley and her experienced partner Sandro Boy 9 entered the arena looking great, the big moving horse really showing class to finish on a score of 70.600% and pave the way for Kristy and Mary tomorrow.were holding breaths as Maree entered the Dressage arena.
At the end of Day one German Kristina Sprehe is leading the individual riding Desperados FRH on 78.814%, Lyndal is 11th and Maree 19th. Germany is leading the Teams from Holland and Great Britain, Australia in 9th position. It will be an exciting day tomorrow all eyes will be on the Olympic Champion Charlotte Dujardin and Valegro. Kristy Oatley will be first out for Australia at 10.36am and Mary Hanna rides at 4.03pm (French time).
Para Dressage
The Para-Dressage started today with the Grade III Team Test Chelsea Higgins for Australia scored 65.289% riding Holstein Park Comedian to finish in 11th position. Elizabeth Sobecki riding Hatero De PB scored 64.737% and finished 14th both young riders very happy with ride. German Hannelore Brenner is leading on 72.474%.
Reining
Reining also started today in the Caen Exhibition Centre, the first Team and Individual Qualifier, Australia's Martin Larcombe riding Wimpy"s Cute Tune are in 4th position on 218.5 points, Shaun Saunders is 8th riding Sparkin Tinsel on 217.0 points and John Wicks is 16th riding Top Flash Cody on 213 points leaving the Australian Team in 4th position after the first round. USA are leading the team from Belgium and Germany. USA rider Andrea Fappani is leading the Individual on 224 points.